Nearly 75% of women will experience breast pain at some point in their lives. For many, it's just a temporary annoyance that comes and goes. But for others, PMS breast pain can be debilitating. And for an alarming number of women, breast issues can be something much more serious – and even deadly
If you're one of the unlucky few who suffer from cyclical or noncyclical breast pain, it's important to know what's normal and what's not. And it's vital to take control of your breast health at a time when more women than ever are being diagnosed with breast cancer. 
Let's take a look at the different types of breast pain and why it happens. We'll also cover the importance of maintaining breast health, what the scientific research has to say, and how Violet Daily can help. Read on!
Why Do I Have Breast Pain?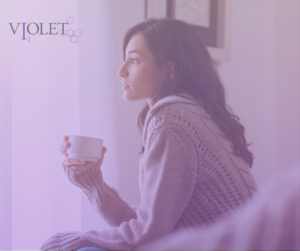 Breast pain can be caused by several things, including PMS, hormonal changes, diet or lifestyle choices, and even certain medications. If you find yourself uncomfortable and howling, "why do I have breast pain?!" every month, hormone fluctuations may be the root cause.
PMS breast pain is usually cyclical—meaning it appears in regular intervals around the time of your menstrual cycle. But noncyclical breast pain happens outside of your period and isn't related to PMS symptoms.
Cyclical vs. Non-cyclical Breast Pain
Cyclical breast pain, also known as cyclic mastalgia, is directly linked to the reproductive hormones estrogen and progesterone. It typically happens during PMS and stops when your period begins. If you experience PMS breast pain, also known as Fibrocystic breast condition (FBC), you may be used to monthly recurrences of breast pain, tenderness, and lumpiness — especially in the upper and outer area of the breasts.
Meanwhile, Non-cyclical breast pain isn't related to your menstrual cycle. If you have persistent breast pain that doesn't go away with PMS, it could be a sign of an underlying health issue like cysts or even cancer. If this is the case, make an appointment to see your doctor right away. 
The Importance of Breast Health
Maintaining healthy breasts is important for overall well-being and self-care. There's plenty of scientific evidence showing the benefits of regular breast self-exams, keeping active, eating a balanced diet, and regularly checking in with your doctor or health provider. But even with this advice, breast cancer is on the rise.
According to researchers, the incidence of breast cancer has risen dramatically over the past forty years (Schneider, A Patrick 2nd et al.). So what can be done to address this modern epidemic?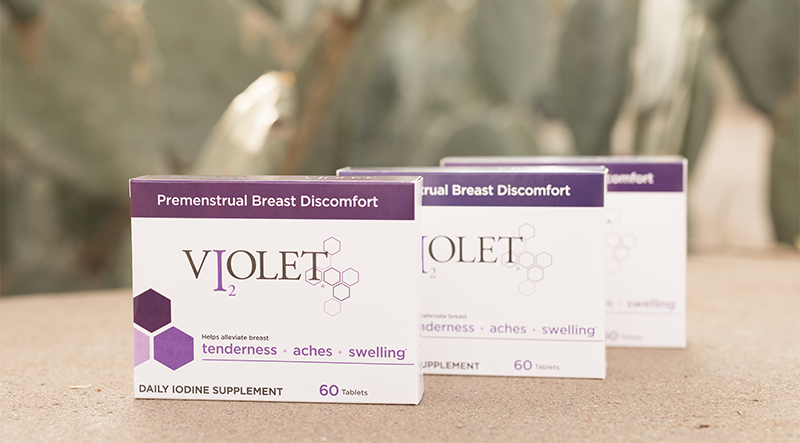 Scientific Evidence for Supporting Breast Health
Groundbreaking research has identified molecular iodine as "a gatekeeper of the integrity of the mammary gland" (Aceves, Anguiano, & Delgado). In animal and human trials, the research team found that molecular iodine supplementation "exerts a suppressive effect" on the development of breast cancer. Thus, it can be used as both a prophylactic against breast cancer development and an adjuvant in breast cancer therapy.
This significant research is important for saving lives. But it can also help women with benign conditions, like PMS breasts! In fact, molecular iodine treatment of "patients with benign breast disease is accompanied by a significant bilateral reduction in breast size, in addition to causing a remission of disease symptoms." But how can the average woman get started on this unique and valuable treatment?
How Violet Daily Can Help
At Violet Daily, we recognize the importance of breast health and want to provide products that help women take care of their bodies and promote wellness. Our products are designed to soothe PMS breast symptoms like breast tenderness, swelling, and aches. But we also take the role of our supplements in maintaining breast tissue health seriously. 
If you're looking for a non-pharmaceutical, scientifically sound remedy to PMS breast that can also provide the benefit of preventive care, give Violet Daily a try. Violet is a daily iodine supplement that helps alleviate the symptoms of cyclical breast pain and FBC and promotes overall breast health. 
Violet is created using a novel technology that combines a formulation of two forms of iodine: iodide and iodate. This unique, non-hormonal formulation interacts with the acidic pH environment of the stomach to form molecular iodine, which is then delivered to breast tissue, resulting in a reduction of menstrual-related breast discomfort. And it can help you. Get started today and take control of your breast health!
References
Schneider, A Patrick 2nd et al. "The breast cancer epidemic: 10 facts." The Linacre quarterly vol. 81,3 (2014): 244-77. doi:10.1179/2050854914Y.0000000027
Aceves, Carmen et al. "Is iodine a gatekeeper of the integrity of the mammary gland?." Journal of mammary gland biology and neoplasia vol. 10,2 (2005): 189-96. doi:10.1007/s10911-005-5401-5
Mayo Clinic Staff. "Fibrocystic breasts." Mayo Clinic, Mayo Foundation for Medical Education and Research, No Date. https://www.mayoclinic.org/diseases-conditions/fibrocystic-breasts/symptoms-causes/syc-20350438?p=1  Accessed 7 Dec. 2022.