In today's fast-paced world, women often push their own health and well-being to the backburner. Whether it's because you're focusing on your family, your career or education, or maybe you're just tired of being ignored by doctors, you feel like you should give up on finding a solution that fits YOU. 
At our core, Violet Daily is about advocating for women to be empowered to take charge of their health and make informed decisions. With emerging technology, the options for women's health screenings have expanded, allowing us to prioritize our well-being more than ever before. 
Let's explore the importance of women's health screenings, the different screening options available, and how Violet Daily, an iodine supplement, can support your overall health journey. Get ready to embrace your medical autonomy and make empowered choices!
The Importance of Women's Health Screenings
Alright, ladies, let's talk about something that's oh-so-important: women's health screenings! Women's health screenings play a vital role in maintaining overall well-being and detecting potential health issues in their early stages. These screenings can help identify potential issues before they escalate, giving us the opportunity for timely intervention and treatment. 
And it's not just your physical health that will benefit! When you take charge of your health and educate yourself about your unique health status and goals, you get the peace of mind of knowing you're in tune with your body and ready to tackle anything that comes your way. 
Different Screening Options
Paps smears and mammograms are synonymous with "women's health" – but is that really all there is? Absolutely not! There are many other options available, especially when it comes to screening your breasts for potential issues. Let's dive into some of the different screening options available to women:

Mammography 
Mammography is the queen bee of breast cancer screenings. It is a well-known and widely-used screening method for breast cancer. It uses low-dose X-rays to create detailed images of the breasts, allowing healthcare professionals to detect any abnormalities or signs of cancer.
Unfortunately, mammograms can be a bit uncomfortable, to say the least. Squishing and squeezing may not be the most glamorous experience, and for women with pain sensitivity or a history of trauma, it can be a fraught experience. And let's not forget about those false alarms. Mammography has been known to sound the alarm bells for something that turns out to be just a blip on the radar.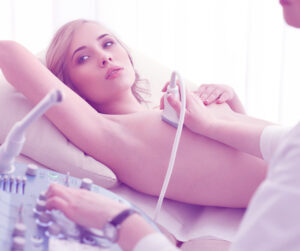 Ultrasound 
Ultrasound, another valuable screening tool, uses sound waves to generate images of the breasts. It is often used in conjunction with mammography to provide a more comprehensive evaluation.
Ultrasounds can be especially useful for women with dense breast tissue, as they provide a clearer picture of any potential abnormalities. And let's not forget the perk of no radiation exposure. Who needs unnecessary drama from those pesky X-rays when you can have a radiation-free experience?
While ultrasounds are great at showing us the details, they may not always give us the full story. Sometimes, those images can be a bit fuzzy, leaving us with more questions than answers. And they can't pick up smaller things, like calcium deposits, that could indicate breast cancer.  

3D Imaging 
Three-dimensional (3D) imaging, also known as tomosynthesis, offers a more detailed view of the breast tissue. This cutting-edge technology is like the trendsetter of the screening world, bringing some serious perks to the table.
 It provides a clearer picture, especially for women with dense breast tissue, reducing the chances of false positives or missed diagnoses. In that way, 3D imaging is like the ultimate problem-solver, minimizing those moments of unnecessary panic and uncertainty.
But just like any trendy diva, it's not without its challenges. First off, 3D imaging can be a bit more expensive compared to other screening methods. Additionally, while 3D imaging offers incredible detail, it can also generate a higher number of images, which may require more time and expertise to review. 
Thermography 
Thermography is a non-invasive screening technique that uses infrared imaging to measure the heat patterns in breast tissue. It can identify areas of increased blood flow, which may indicate early signs of abnormalities or inflammation.
Thermography is non-invasive, which means no squishing or squeezing like some other screenings. Plus, it's radiation-free, so you can bid adieu to any worries about unnecessary exposure. Typically, thermography exams will include a full body scan, which offers a more complete view of your overall health. 
Thermography, while promising, is not yet widely accepted as a standalone screening method for detecting breast cancer. Rather, it is recommended that you use this method as a secondary or supplemental screening. Additionally, the interpretation of thermographic images requires specialized training and expertise, so finding a skilled professional becomes crucial. 
What Can These Methods Tell Us About Our Breasts?
These screening methods offer valuable insights into our breast health. They can detect early signs of breast cancer, identify abnormalities, and help healthcare professionals determine the best course of action. Regular screenings empower us with knowledge and allow for early intervention, increasing the chances of successful treatment.
Which Option Is Right for Me?
Choosing the right screening option depends on various factors, including your age, risk factors, personal preferences, and discussions with your healthcare provider. It's important to have open and honest conversations about your health and make informed decisions based on your unique circumstances.
The important thing to understand is that you HAVE a choice. This is your opportunity to speak to your provider to discuss your individual needs. Ask your questions and make an educated decision!
The Importance of Medical Autonomy
As women, we have the right to take control of our health decisions and assert our medical autonomy. We are the experts of our own bodies, and our choices should be respected and supported. By being proactive in our health journeys, we can advocate for the screening methods that align with our needs and preferences.
Take Charge with Violet Daily
In addition to regular screenings, supporting your overall health is crucial. Violet Daily, an iodine supplement, can be an excellent addition to your daily routine. Iodine is essential for thyroid health and overall well-being. Violet Daily's unique molecular iodine formula is proven to reduce breast pain and help bring balance to breast tissue. By incorporating Violet Daily into your lifestyle, you can take charge of your breast health from the inside out.
As women, we have the power to make informed choices about our health. By embracing emerging technology and staying proactive with regular screenings, we empower ourselves to detect potential issues early and take the necessary steps for our well-being. Remember, medical autonomy is our right, and with supplements like Violet Daily supporting our health, we can confidently navigate our journeys toward optimal well-being. So, take charge, make informed choices, and prioritize your health every step of the way. You've got this!