Premenstrual Syndrome (PMS) is a condition that affects many women of reproductive age – that can be women ages 12 to 55! Symptoms vary from woman to woman but typically include mood swings, fatigue, and breast pain. While there are many treatments available for PMS symptoms, some women may prefer to try exercise as a natural way to relieve their discomfort.
To help you determine what's best for your health, we will explore the relationship between exercise and PMS symptoms, including breast pain. We will also discuss other treatment options for PMS breast pain, such as targeted breast supplements that can help provide relief.
Common PMS Symptoms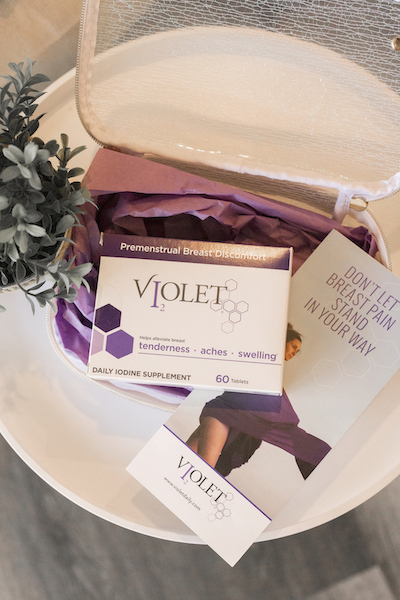 As we mentioned, symptoms of PMS can vary from woman to woman. However, there are some common symptoms that many women experience. These include:
– Mood swings
– Fatigue
– Breast pain
– Bloating
– Headaches
– Acne
– Food cravings
While these symptoms are common and not life-threatening, they are also no fun AT ALL.
PMS Breast Pain
One of the most common and more debilitating symptoms of PMS is breast pain. This pain can range from mild discomfort to severe pain that makes it difficult to perform daily activities. The good news is that there are options available to help relieve this pain.
One natural treatment option that some women may want to try is exercise. Exercise has been shown to have numerous benefits for overall health, including reducing stress levels and improving mood. Additionally, exercise can also help to reduce breast pain by increasing circulation and easing muscle tension.
Of course, it is important to consult with a doctor before starting any new exercise routine, particularly if you are experiencing severe breast pain. Additionally, it is important to choose an exercise that is comfortable for you, and that does not worsen your breast pain. For example, jogging can increase breast discomfort, which is the opposite of what you're trying to accomplish!
How Exercise Impacts PMS Symptoms
In addition to potentially reducing breast pain, exercise may also help to relieve other symptoms of PMS. For example, research has shown that exercise can help to improve mood and reduce stress levels in women with PMS.
Additionally, exercise can also help to improve sleep quality, which can be a major issue for women struggling with PMS. Getting enough rest is essential for managing stress levels and reducing fatigue, both of which are common symptoms of PMS.
Finally, exercise may also help to reduce bloating, another common symptom of PMS. Bloating can be caused by a build-up of fluid in the body, but exercise can help to flush out this excess fluid and reduce bloating.
Exercise has also been shown to help with other common PMS symptoms, such as fatigue, headaches, and cravings for certain foods. So it's an all-around good choice!
Other Options for Treating PMS
In addition to exercise, there are many other treatment options available for women suffering from PMS. These include:
– Diet changes: Eating a healthy diet that is rich in fruits, vegetables, and whole grains can help to reduce symptoms of PMS. Additionally, avoiding processed foods and foods high in salt, sugar, and fat may also be helpful.
– Stress management: Managing stress levels through relaxation techniques such as yoga or meditation can help to reduce symptoms of PMS.
– Hormonal birth control: Birth control pills can help to regulate hormones and reduce the severity of PMS symptoms.
– Supplements: There are many supplements that have been shown to be effective in reducing symptoms of PMS. These include calcium, vitamin B6, magnesium, and omega-3 fatty acids.
Supplements for PMS Breast Pain
There are a few specific supplements that may be particularly helpful in relieving breast pain associated with PMS. These include calcium, Vitamin B6, Magnesium, and Omega-3 fatty acids.
While any of these could be helpful for health and well-being, the only supplement clinically proven to support breast health and reduce the symptoms of PMS breast is a unique combination of molecular iodine and selenium.
That's right, if you're looking for a supplement specifically designed to address breast health and PMS breast pain, look no further than Violet Daily. These supplements for PMS breast pain feature a unique, patented formula that offers relief from monthly breast discomfort and tenderness. Violet helps women get ahead of monthly pain for continued relief and improved breast health.
Takeaways
If you are considering taking any supplements to relieve breast pain associated with PMS, it is important to consult with a doctor first, as some supplements can interact with medications or have other side effects.
While supplements are not a replacement for healthy lifestyle choices, such as eating a healthy diet and exercising regularly, they can be a helpful addition to your overall PMS treatment plan. So take charge of your PMS symptoms and order Violet Daily today!