Welcome to part two of our story dedicated to a topic close to every woman's heart: women's health and breast cancer screenings. Our CEO recently embarked on a journey of knowledge and awareness, exploring the importance of early detection, self-care, and various medical screenings. 
As always, we are advocating for women to put themselves first, prioritize well-being, and equip themselves with the necessary information to stay healthy. So, let's dive into part two of Dianne's experience with thermography!
Recap of Part One
In the captivating first part of Dianne's journey, we took readers on an informative journey exploring the potential of thermography in women's healthcare. Our CEO's investigation delved into the definition and principles of thermography, comparing it with traditional diagnostic methods.
But most importantly we got a firsthand account of the experience! Overall, part one offered an insightful and lighthearted perspective on how thermography can revolutionize women's healthcare. So who's ready for part two?
What Happened Next: The Results
After her initial appointment, Dianne's provider informed her that she'd receive results via email in 7 to 10 days. This is typical, though patients also have the option of reviewing their results and protocols with their practitioner. This is vastly different from a mammogram, where you either receive a letter or email giving the "all clear" or a dreaded phone call to schedule a follow up.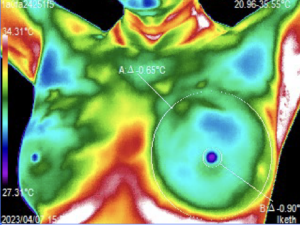 Dianne's 8-page report starts with a one-page introduction to the technology and an overview of physiological foundations and norms, the procedure, and some information about breast cancer. The report also included 5 pages of full color infrared images from Dianne's thermography session. On each page, there were findings and information regarding possible causes. 
To further elucidate her results, Dianne met with Dr. Gregory Melvin in Southern California. Dianne was immediately impressed with Dr. Melvin's encyclopedic knowledge of medicine and medical studies. He is a naturopathic physician and he has an alternative and holistic approach to healing. 
Dr. Melvin walked Dianne through the images and explained what he saw, going over the associated protocols and next steps. Specifically, Dianne will be addressing sinus congestion and keeping an eye on her right breast and nipple. 
Before leaving, Dr. Melvin gave Dianne a neuromuscular adjustment. Neuromuscular therapy is a specialized form of deep tissue massage that targets the nervous system and specific areas of muscle tension. It can be effective in reducing pain and improving range of motion. And it helped relieve Dianne's neck and shoulder tension immediately!
Case Studies: Real-Life Examples of the Importance of Thermography Application
Dianne's experience is not unique. In fact, there are many case studies of thermography being used successfully to support medical imaging for breast cancer. 
For example, in one case study, the patient visited a thermography clinic to examine a lump in her right breast. Her doctor sent her in for a follow-up mammogram to investigate the lump initially, but the mammogram came back negative with a recommendation for a routine annual exam.
However, the thermal imaging showed a significant amount of heat and vascularity (angiogenesis) in the right breast, especially over the lump. The patient was sent back to her doctor with a recommendation for an immediate biopsy of the lump. The biopsy confirmed that the lump was cancer. 
This is just one clear example of how further imaging using a different diagnostic tool allowed the patient to take charge of her healthcare and address a potentially fatal condition before it advanced. 
The Future of Thermography in Women's Healthcare
The future of thermography in women's healthcare holds immense promise, driven by advances in technology and ongoing research. As this innovative field evolves, we can expect exciting developments that will further enhance its role in healthcare. One exciting aspect is the integration of thermography with other diagnostic tools and approaches. 
By combining thermal imaging with traditional methods such as mammography or ultrasound, healthcare professionals can obtain a more comprehensive view of a woman's health. This integration enables a multi-dimensional approach to diagnosis, improving accuracy and enabling more personalized healthcare and treatment plans.
In fact, the future of thermography encompasses expanding its application beyond traditional healthcare settings. As technology becomes more accessible and portable, thermography can potentially find utility in remote areas, underserved communities, and even home-based screenings. This democratization of healthcare empowers women to take proactive measures in monitoring their health and facilitates timely interventions.
More to Come: The Future of Thermography in Women's Healthcare
The importance of different diagnostic tools cannot be overstated when it comes to women's healthcare. Each tool offers a unique perspective and contributes to a more comprehensive understanding of a woman's health. This integration of different tools will provide healthcare professionals with a more complete picture, enabling them to make more accurate assessments and informed decisions for individual patients.
.
In this evolving landscape, more options mean more power for women.  It allows them to seek second opinions, explore different avenues, and make more informed decisions about their health. By embracing the diversity of diagnostic tools, women gain a greater sense of control and confidence in managing their well-being.
As this field continues to evolve, let's embrace the possibilities, celebrate the importance of different diagnostic tools, and empower women to take charge of their health. Together, we can pave the way for a future where every woman receives the personalized care she deserves. 
Our story isn't ending just yet. Stay tuned for an eventual Part Three, as we follow up with Dianne to see how she progresses, and how her daily use of Violet Daily impacts her breast health. Exciting times are ahead, and the journey towards optimal women's healthcare continues!