It is essential for women to have a basic understanding of breast health. Too often, we wait until there is a problem before seeking information and treatment. By then, it may be too late. That's why we're going back to the basics! We'll provide an overview of breast health, from the basics to more specific concerns like painful breasts. We hope that you will find this information helpful and informative because knowledge is power.
What is Breast Health?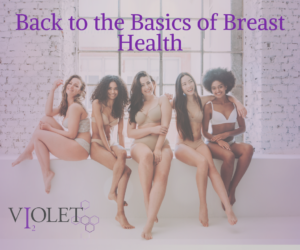 Breast health is the term used to describe the overall well-being of your breasts. This includes everything from how they look and feel to how they function. Breasts comprise several types of tissue, including fat, connective tissue, and milk ducts. The amount of each type of tissue varies from woman to woman.
Additionally, our breasts go through many changes over the years. Many women notice cyclical changes in their breasts once their periods begin. Other major breast changes occur while pregnant or breastfeeding. As hormones fluctuate throughout life, so do our breasts. And while some changes can be beautiful, like the ability to breastfeed your baby, others can be painful or scary.
It's About More Than Breast Cancer: Other Breast Concerns
While breast cancer is a major concern for many women, it is not the only breast concern women should be thinking about. Various other conditions can affect the breasts, including benign (non-cancerous) tumors, cysts, and infections. It is important to be aware of these other conditions so that you can seek treatment if necessary.
Of course, regular self-checks are a great starting point. Get to know your own breasts so you'll notice if there's a change. Any change in density or new pain could be a sign of something serious. However, for women suffering from Fibrocystic Breast Disorder, painful and lumpy breasts can be the norm.
This painful but non-life threatening concern is quite common and related to monthly hormonal fluctuations. Hence the nickname "PMS breasts." While screening for breast cancer and speaking with your health provider about your potential risks based on hereditary and environmental factors, it's also important to bring up other concerns. Breast pain doesn't have to be your normal!
A Healthy Body is Best for Healthy Breasts
Just like the rest of your body, your breasts need to be healthy in order to function properly. A healthy lifestyle and body is vital for overall breast health. This includes eating a balanced diet, getting regular exercise, and maintaining a healthy weight. Additionally, it is best to limit your alcohol intake and avoid smoking or using tobacco products. These lifestyle choices can impact your breast health positively or negatively, so it is crucial to make informed decisions.
Keeping your body balanced means monitoring your vitamin and nutrient levels, as well. Research has found that women with low levels of vitamin D may run a higher risk of developing breast cancer. So while you're caring for your skin with sunscreen, you may be missing out on vitamin D! Luckily, vitamin D3 supplementation can help.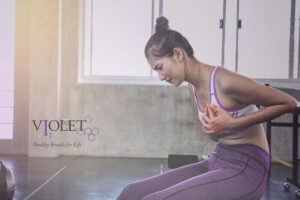 Additionally, if you experience painful breasts around your period, you may be deficient in another area: iodine. Supplementation can make a big difference if you're experiencing breast symptoms. In fact, the two key ingredients in Violet Daily supplements are iodine and selenium. The unique molecular iodine structure of these supplements targets breast tissue to reduce swelling. And not only can this first-of-its-kind formula alleviate breast discomfort, but it has also been shown to promote overall breast health!
Breast Warning Signs
While supplementation is a great way to support breast health, you also need to be attentive and seek medical attention if you experience unusual or painful symptoms.
You should be aware of a few warning signs when it comes to your breasts. These include changes in size or shape, discharge from the nipple, changes in skin texture, and extreme pain. If you experience any of these symptoms, it is important to see a doctor so that they can determine the cause.
Treatment Options for Painful Breasts
If you are experiencing pain in your breasts, a few treatment options are available. These include home remedies like over-the-counter medication, ice or heat therapy, and massage. Additionally, a supplement like Violet Daily can help prevent pain associated with cyclical mastalgia and fibrocystic breasts. If you are unsure about what treatment option is best for you, consult with a medical professional.
Stay in the Know
As a woman, it is essential to stay informed about your breast health. This means being aware of the different types of conditions that can affect your breasts and knowing how to identify the warning signs.
Make healthy lifestyle choices and always seek medical help if you experience breast pain to stay ahead of any potentially serious issues. Other great ways to stay in the know can include following women's health platforms like Violet Daily on social media, signing up for our emails, beginning a daily routine of taking Violet Daily, and conducting a monthly routine of checking your breasts.
Want to know more about protecting and maintaining your overall breast health? Check out our FAQ page for answers to popular questions.