Celebrating Self Care Part 2 – Health is Wealth
Have you ever heard the popular saying "health is wealth"? This gives immense meaning to our life, as health is considered the most valuable and precious thing you can possess. Good health means not only the absence of disease in the body but the complete physical, mental, social, as well as spiritual, well-being of an individual.
Without Good Health We Can't Live The Life We Choose
Violet's mission – "healthy breasts for life" – is a mantra for living a life of wealth. Violet created a unique and effective way to eliminate monthly breast pain so you can live your best life free from pain. Using the Violet daily pill will bring you relief within 30-60 days!*  Learn more about our unique iodine supplement at violetdaily.com.
Now is the Time to Improve Your Quality of Life By Embracing an Ongoing Routine of Self-Care
Busy women and busy moms usually run fast and hard, and sometimes, straight to the end of good health. It can be too late to correct it when an illness pops up or trouble punches you in the face. Though there is no certainty for perfect health, we can do our part to make sure that we are taking all the steps necessary for optimal living through conscious self-care. We can also improve our breast health with a deliberate and consistent self-care routine.
Vital Steps for Self-Care
The first and most important keys to self care are:
Body awareness

Be aware of your body signals

Understand what brings distress to your body

Mind awareness

Know what makes you feel happy
If you are dealing with monthly breast pain, your first stop to self-care is Violet, a unique, patented breast health supplement formulated to give you relief from breast discomfort and tenderness. The daily Violet pill helps women get ahead of monthly pain for continued relief and improved breast health!
Body and Mind Awareness
Body awareness is how conscious and connected you are to your own body. It is also known as kinesthesia, or the awareness of the position and movement of body parts in relation to muscles and joints. It's much like when you are in yoga class – feeling the muscles that contract and expand to support you.
Be Aware of Your Body Signals
Learning how you recognize where your body is in space will enable you to have the awareness and ability to interpret sensory information arising from joints, muscles, skin and inner parts of the body.
Understand What Brings Distress to Your Body
Your body reacts to stress by releasing hormones. These hormones make your brain more alert, causing your muscles to tense, and increasing your pulse. In the short term, these reactions are good because they can help you handle the situation causing stress. This is your body's way of protecting itself. Learning to read these signs and being aware of the connection they have to your muscles and joints and other body parts is the essence of self-care and living a healthy, wealthy life!
Mind Awareness
Mind awareness starts with being aware of what is taking place in your own thoughts. There are many different teachings and schools of thought about awareness, but for this writing on self-care, a healthy place to start is simply becoming aware of your mental habits. Decide whether you "cling" to these thoughts or not, if they are good for you, or not, if they benefit your health, your sanity, and your peace. Then let go of the thoughts and mental habits that are NOT contributing to your healthy life.
Know What Makes You Feel Happy
Following body and mind awareness will help you identify and locate the things that bring you joy and make your body feel good. Taking some time away and being alone can do wonders for your mood and outlook, as well as help you find the meaning of true happiness. A favorite hobby, exercise, and self examination are also great to optimize your mind and your body for healthier, wealthier, happiness.
Being Pro-Active About Breast Health
Self-care requires being proactive not just about your happiness and how you spend your time, but also about what you do with your body. Exercise and eating right is top of the list. Taking the time for meal planning and 30 minute workouts, walks, dancing, yoga, biking, are key elements to add to your self-care routine.
Be Pro-Active with Consistent Self Breast Examinations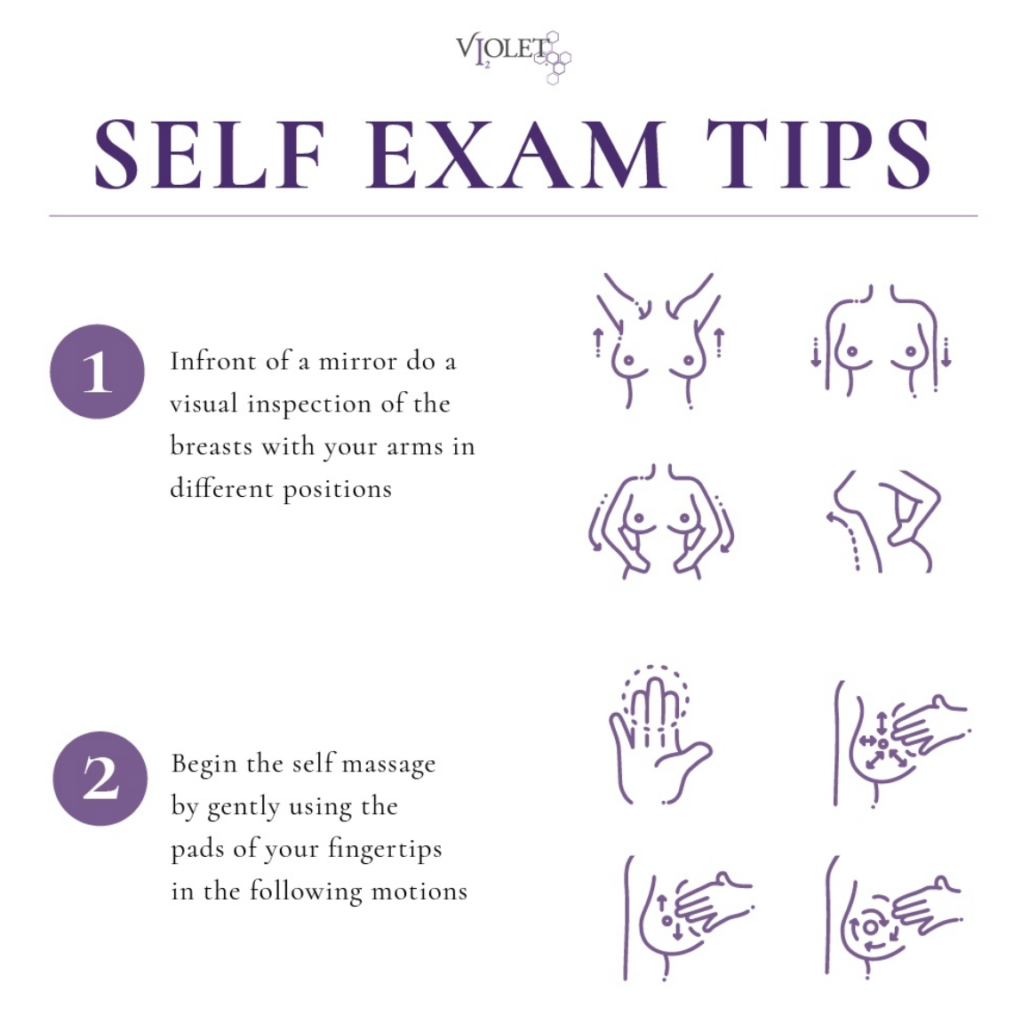 Make yourself a monthly reminder. Show yourself some love and give your breasts a routine "feel" with a self breast exam. Get tips and track the results monthly with a handy app like this one from Keep a Breast Foundation.
At Violet, our mission is simple: Healthy breasts for life. When you deal with monthly breast pain you're definitely not thriving. Start your 60 days to pain-free breasts today at violetdaily.com.
Self-Care On The Lymphatic System
The lymphatic system is a crucial part of your immune system. Through a network of hundreds of lymph nodes, it drains fluid called lymph to be transported back into your bloodstream. It also removes bodily waste and carries white blood cells that help prevent infection. Keep your body, and breasts healthy by reducing lymphatic blockages and allowing your body to work as intended.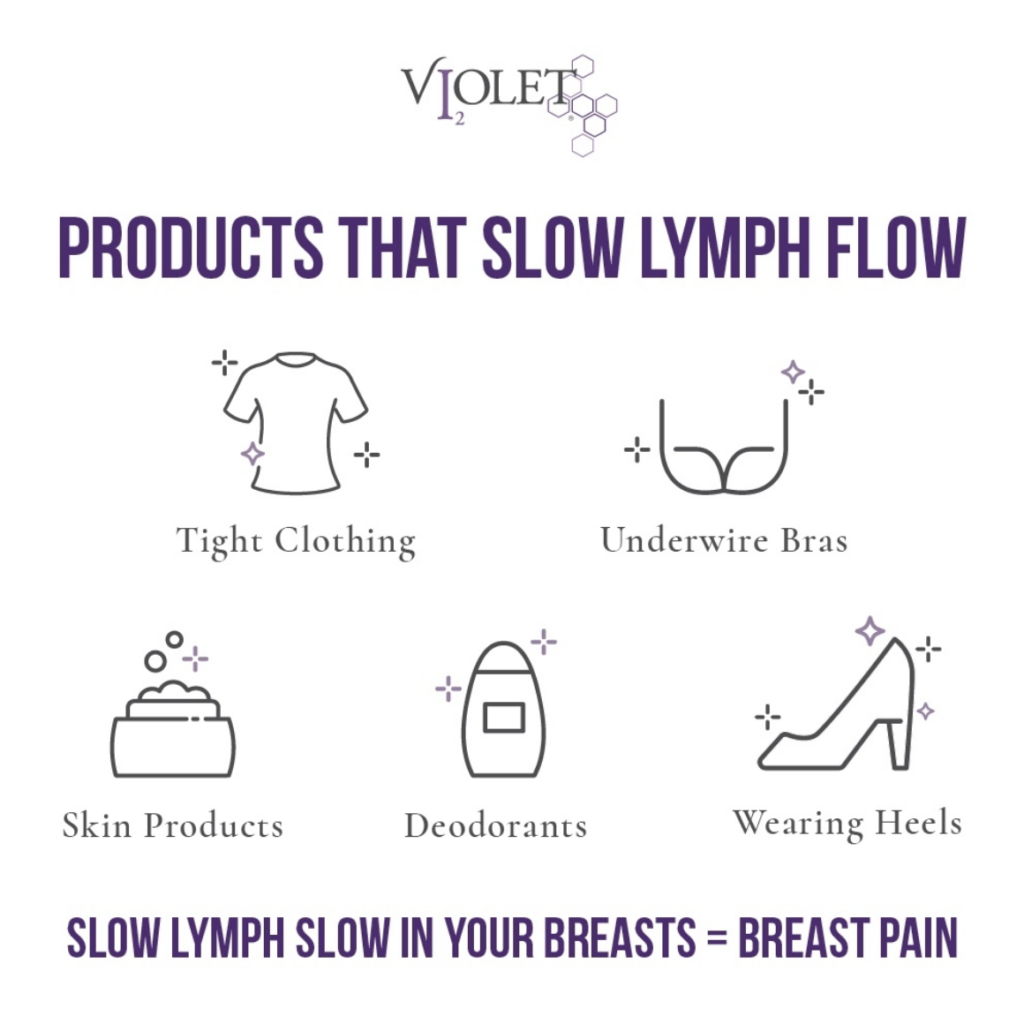 These Things Matter
Lymphedema drainage, or lymphatic drainage massage, is not only an important part of caring for your breasts, but great for the entire lymphatic system. Not an actual self breast exam, but when you do a lymphatic massage it helps to get out the waste and improves the flow. And yes, this is something you can learn to do yourself. Why rely on someone else when no one knows your body better than you? Don't be afraid to touch yourself!
Learn more about this technique and the health benefits from our friends at @lymphloveclub.
Wise choices will benefit us for a lifetime. Good decisions can have a huge impact on our bodies, our breasts, our lives, our minds, and our families. From choosing the right clothes to the deodorant we wear, from the shoes we dance in to the bras we run in, all these choices can make us feel energetic and healthy, sexy and appealing… or not.  Let your body move in a natural way and you will see the difference in how you feel.
Healthy Breasts = Wealth for Life
Yes, health is wealth, and we are not talking about a new discovery here, but more of a tried and true fact. Recognizing that optimal health creates the foundation for a better life financially, physically, spiritually and mentally is not to be ignored. Empower yourself with these self-care tips and activities to ensure that you have the ability to live the rich life you desire and deserve.
Violet Daily – The First Step In Self-Care for Your Breasts
For optimal breast health, we invite you to join Violet and discover pain-free breasts.
Like a vitamin for your overall health, Violet is a daily supplement for the health of your breasts. The two key ingredients in Violet are iodine and selenium, and the unique molecular iodine structure targets breast tissue to reduce swelling. Not only can this first-of-its-kind formula alleviate breast discomfort, but it has also been shown to promote overall breast health.
Clinical trials show that 74% of women experienced significant improvement in their breast discomfort after taking Violet for 60 days.* Visit violet daily.com to get started and receive 25% off your first order. Self-care never felt so good!
*Clinical trial abstract conducted for Violet: https://pubmed.ncbi.nlm.nih.gov/15239792/.
Sources: