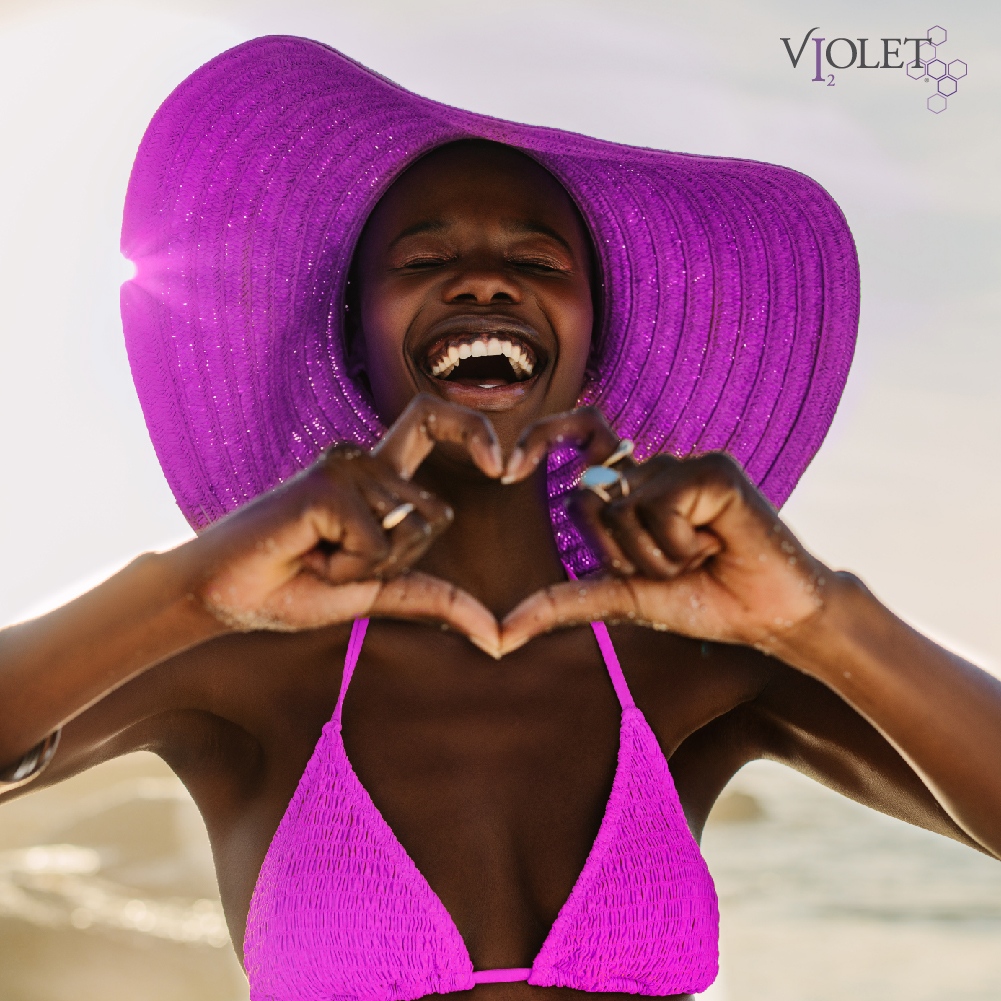 Live Your Best Summer
"It's not selfish to love yourself, take care of yourself, and make happiness a priority. It's necessary." ~ Mandy Hale
Is it correct to say that we love all things summer? Yes it is! Time on the beach, backyard BBQs, late-night sleepovers, and snuggles under a star-lit night?  That's why Violet daily is here to help you get on top of monthly breast pain so you can live your best summer and every season that comes along.
You deserve to feel your best. That's why it's time to stop putting your pain and discomfort on the back burner. We want you to jump feet first into the deep end of the pool, and wrap your loved ones in a big bear hug, lay on your stomach at the beach, and wear your favorite bikini without the need for an extreme sports bra support. In other words – live your best summer COMFORTABLY!
First Things First: Say Good Bye to Breast Pain
Hello, long summer days and cool summer nights. Oh, and freedom from monthly breast pain! The Violet daily pill helps to alleviate monthly breast pain due to Fibrocystic breast condition – that nasty cycle of breast tenderness, aches, swelling, heaviness, and, for many, acute pain caused by high levels of estrogen and prolactin. This discomfort may interfere significantly with intimacy, clothing selection, exercise, and even routine social activities, making your summer fun not so fun. Violet is your daily vitamin for breast pain and when taken regularly has been shown to reduce breast pain within 30-60 days. Visit our website for details – violetdaily.com.
Carefree Healthy Living
Carefree healthy living is the kind of wealth we all desire. To feel good, free from pain, and energized to love our families and enjoy our lives. The best way is the proactive way, so why not take the time this season to plan your annual screenings? Knowing you have taken care of your health is paramount to living your best summer with less stress and more confidence.
Plan Summer Screenings:
Clinical breast exam

Mammogram

Colorectal Screening/FIT Kit
Breast health is every woman's concern. And today, it's a comfort to know that there are more ways than ever to diagnose and treat breast abnormalities. Reach out to your doctor, we are confident you'll find a highly advanced program for diagnosing and treating virtually any breast health issue. 
Things That Make You Say AHHHHH
This summer indulge yourself all season with carefree living. Get comfortable, get rid of pain, get out of the box and into the sand box! And as a result you will feel that AHHHHHH that summer always whispers!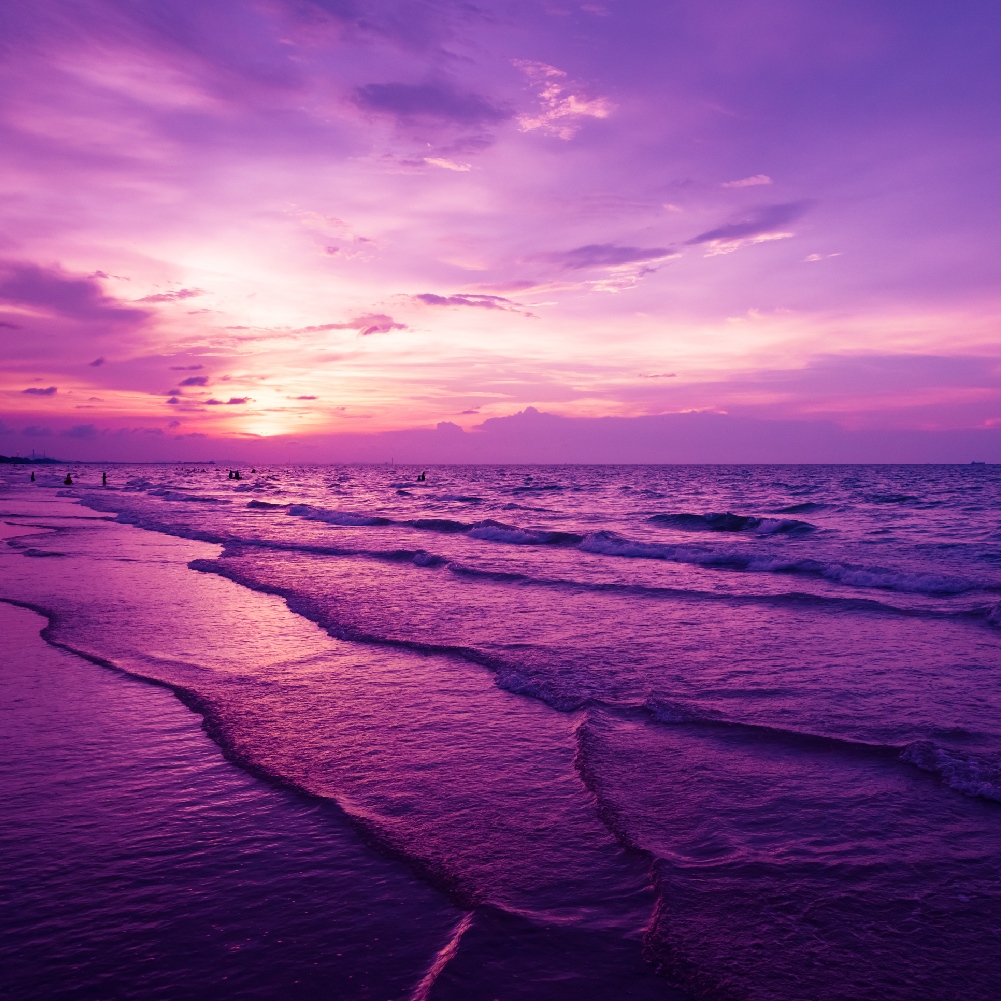 This summer, ditch the bra!
One of the best feelings of the day…the moment your bra comes off. Hands up if you agree with us. 🙌
A quick word about your breasts.
It's helpful to know a little about your breasts and what they're made of so you can understand the role your bra plays. "Breasts are composed of glandular tissue and fat. The breast gland itself is supported by Cooper's ligaments—an internal matrix of connective tissue," explains Alexis Parcells, MD, a board-certified plastic surgeon at Parcells Plastic Surgery in Shrewsbury, New Jersey. Their shape and the way your breasts sit depend on their unique ratio of glandular tissue and fat. It also will influence whether or not you are comfortable going braless!
The decision is yours.
The decision of going braless is a personal AND aesthetic one. You don't have to worry that you're hurting your breasts or increasing your risk for certain diseases. Clinical Professor of Surgery at UCLA and a founder of the US National Breast Cancer Coalition, Susan M. Love, MD, MBA explains that there is no medical reason to wear a bra. "Except for the women who find bras especially comfortable or uncomfortable, the decision to wear or not wear one is purely aesthetic—or emotional," she writes in her book, Dr. Susan Love's Breast Book. "If you don't enjoy it, and job or social pressures don't force you into it, don't bother."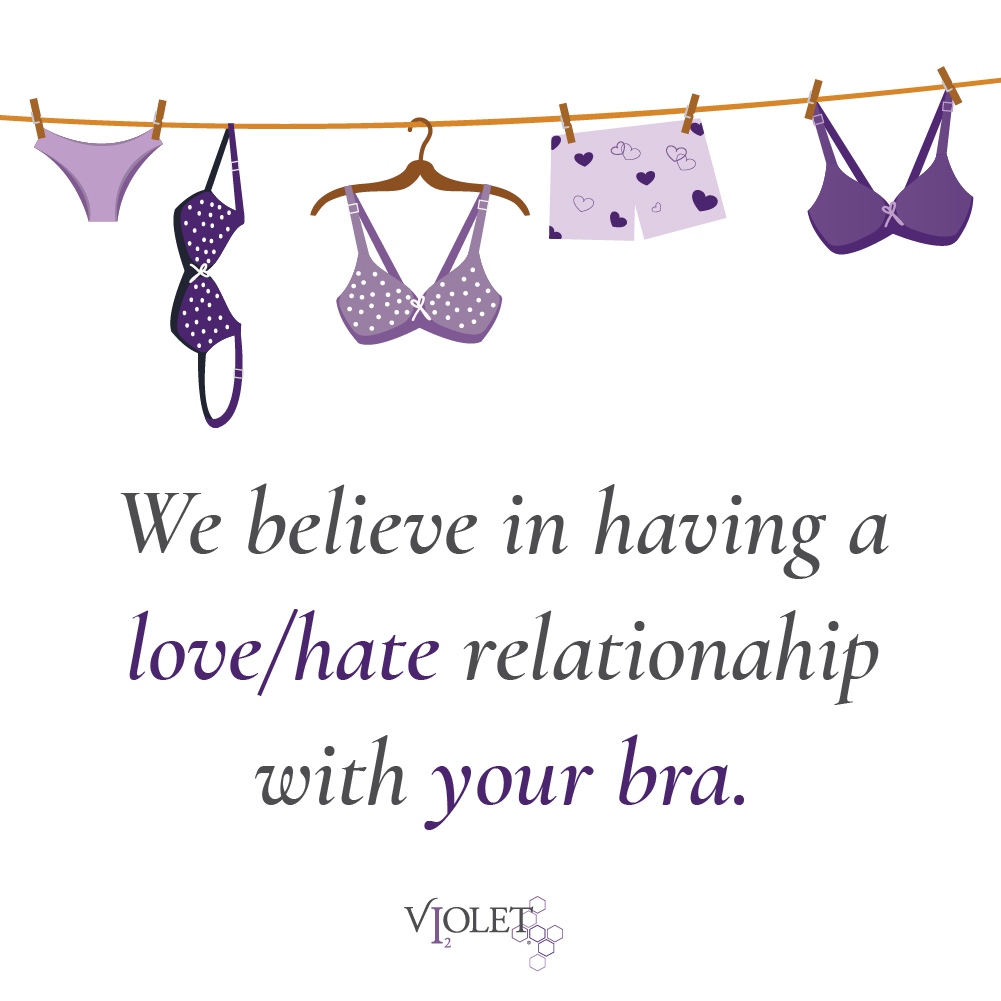 Benefits of going braless:
It can improve breast shape and tone the muscle

Better circulation

Less irritated skin – Without a bra, your breasts are free to breathe and your skin will be prevented from irritation, you can have improved skin

Reduce pain – This depends hugely on each individual case, but it has been proven that wearing the wrong size bra can do your body a lot more harm than going completely braless.
Going braless isn't for everyone.
For some people, practical or medical reasons make bras necessary. For others, it's emotion driving that need. Whatever is behind your choice, if you do want to wear a bra, make sure it's the right one for you. And that means getting fitted properly for your body size.
Ditching your bra for a while can give you some back pain and postural issues if your chest is on the heavier side. That said, Lucky Sekhon, MD, an OB/GYN and REI in New York City, says that there are a number of benefits that can be realized by women with breasts of any size. "Women with larger breasts may initially feel more uncomfortable than those with smaller breasts as their muscles may initially be weak and not feel strong enough to provide adequate support," she says. "Over time, though, their bodies will adjust and naturally start to support the breast tissue appropriately, without the aid of a bra."
Find a swimsuit that makes you feel confident.
Putting on a swimsuit for the first time this summer isn't easy, to say the least! Most of us are not ready to jump into a bikini and hit the pool. If you have had breast treatment or reconstructive surgery, finding a bra is hard, finding a bathing suit is 10 times harder!
When it comes to shopping for that "perfect" swimsuit, it can seem like a daunting challenge for any age. So first, you'll want to think about your swimsuit requirements. While you want something flattering, stylish, and comfortable, you also want one to make you feel your best. That most of the time comes down to fit, and not all suits are made the same. Go for quality of materials and colors that boost your hair and skin. Look for options that are sporty, fun, and made for your body type. Because we all deserve to have our fun in the sun and to feel confident doing it!
Hydrate Hydrate Hydrate!
Dehydration is another issue many have in the summer. Not just because it's hot and you're sweating, but it could also be due to medical procedures you have had, or side effects you are having from recent medical issues. Being thirsty is serious! So, if you are going to spend more time in the sun, you must drink water and stay hydrated. There is a plethora of products out there from Gatorade to Topo Chico sparkling mineral water, whatever your choice or preference is, carry it around with you and stay hydrated!
SPF is your new best friend.
Fun fact: It can take just 15 minutes for the sun to harm your skin, even though it can take up to 12 hours for a sunburn to appear.
No matter who you are, you should use a sunscreen with a high SPF rating to protect your skin from the sun and reduce your risk of skin cancer and premature aging. But for those who've been treated for cancer, wearing sunscreen with a high SPF rating is especially important, as some treatments can increase your skin's sensitivity to the sun.
Get your SPF on!
A high SPF number in your daily facial moisturizer is important for regular sun protection and for preventing wrinkles, and using a daily body lotion with a high SPF number is a great idea for extra protection. A high SPF number in your sunscreen for a day at the beach is non-negotiable.
Studies show that products with an SPF of 30 are best, and that higher SPFs don't work any better. Make sure you're applying enough sunscreen for it to be effective. People often apply only half of the recommended amount, which gives you only half of the product's SPF protection. For example, if you apply only half as much SPF 30 sunscreen as you should, you'll only get the protection of an SPF 15. And don't forget your lips — there are many lip balms with high SPF ratings.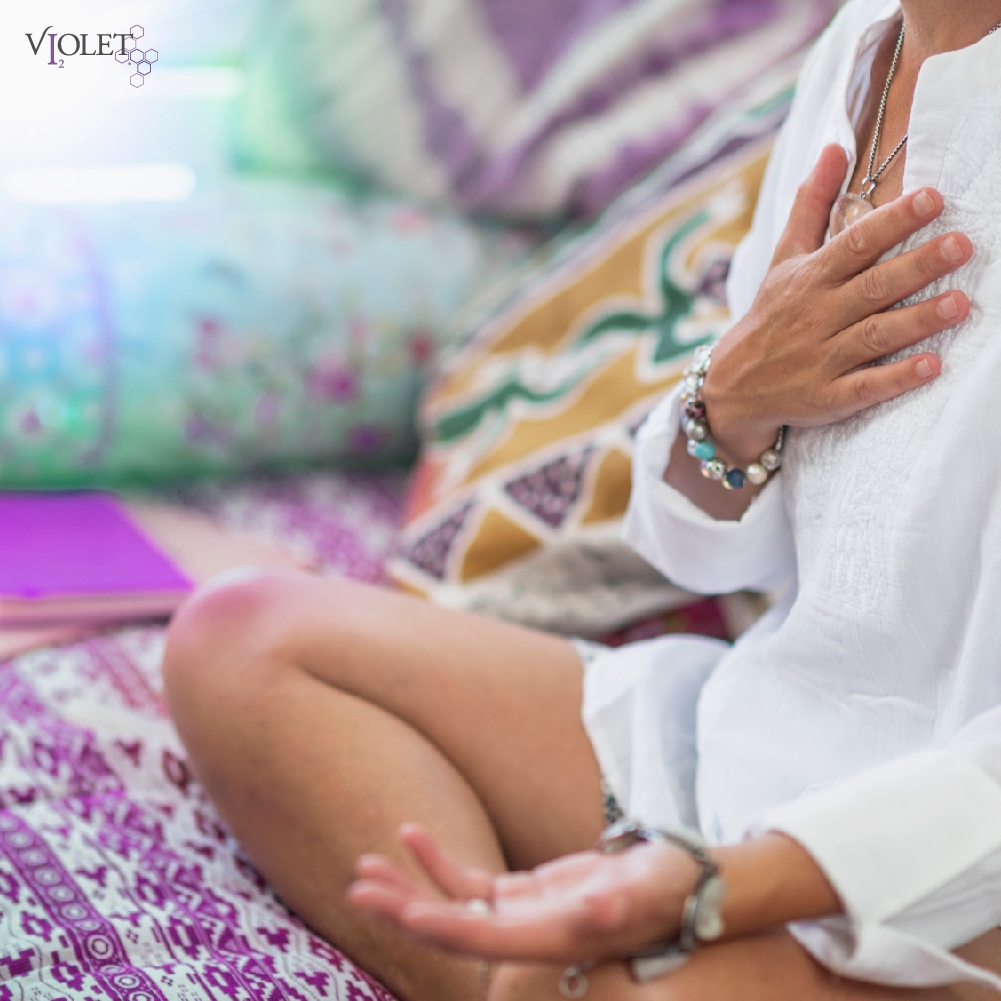 Take a Break From Your Routine
Taking breaks can improve both your productivity and creativity. In fact, not taking them can make you less productive. So since we are talking about living your best summer, that means finding ways to reduce your stress and anxiety that most all of us suffer from. Such stress inducing routines, involving all work and no play, can also have serious implications on your breast health as it increases stress, fatigue and depression.
Benefits of taking a break:
Reduced stress level

Enhanced focus and concentration

Improve memory
Break out of your daily routine this summer, take a breather and replenish your mental, physical and spiritual resources.
Things you can do:
Travel

Exercise

Find new places to eat

Discover new music

Leave room for flexibility

Take yoga breaks

Go for a walk every morning

Relaxation techniques like meditation and deep breathing always help
Getting outside your routine can definitely help you live your best Summer and will go a long way in helping you relax and reduce stress and anxiety. Therefore, do something new, mix up your routine, reshuffle your priorities and take out time to focus on yourself for your own mental and physical benefits.
Relief from Breast Pain
In talking about all of this, our desire is that your summer will be filled with joyful days that are not only fun and stress-free, but also free from breast-pain. Violet exists to support women in all our endeavors and lifestyle choices. We are intensely passionate about our mission; healthy breasts for all women, for life. That means we want you to be free from breast pain so that you can move confidently and pain-free into your life every day ALL SUMMER LONG!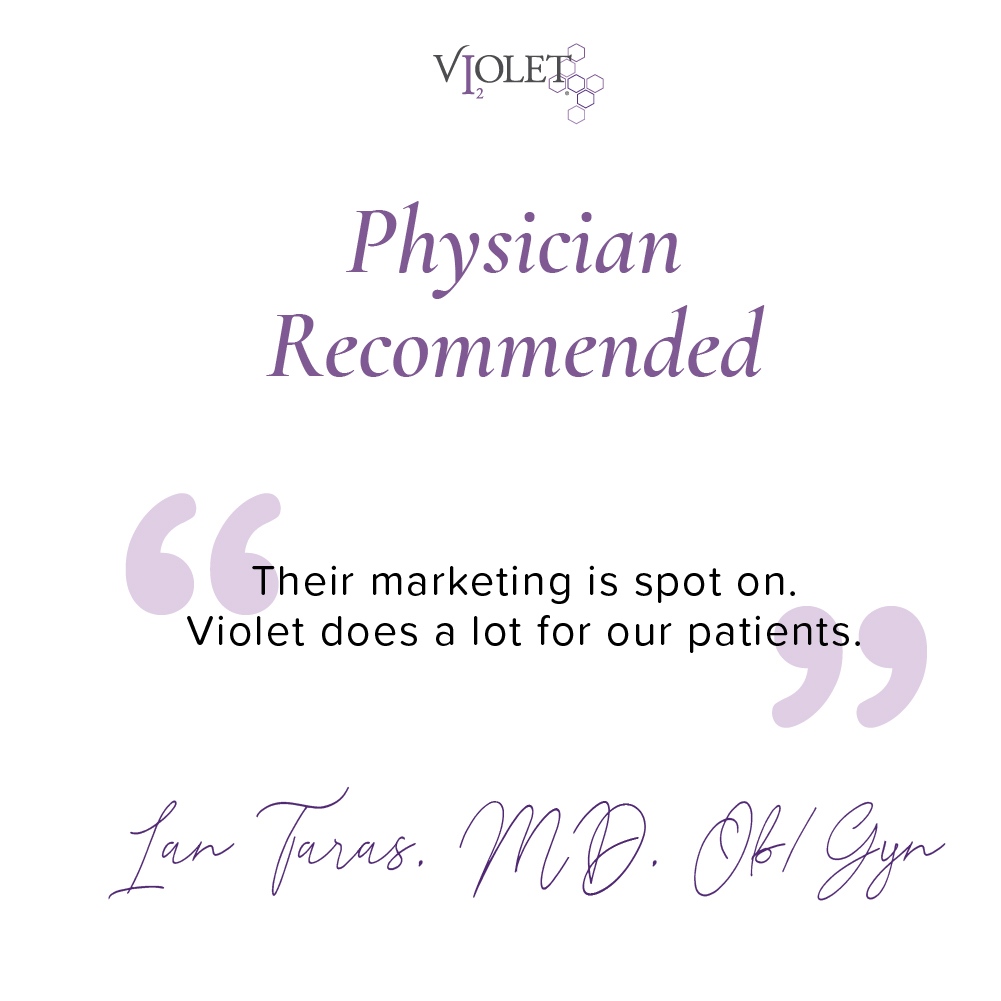 We are Violet. Once a day keeps breast pain away.
💜💜
We are proud that Violet is recommended by doctors! The two key ingredients in Violet are iodine and selenium, and the unique molecular iodine structure targets breast tissue to reduce swelling. Not only can this first-of-its-kind formula alleviate breast discomfort, but it has also been shown to promote overall breast health.
Clinical trials* show that 74% of women experienced significant improvement in their breast discomfort after taking Violet for 30-60 days. Try Violet Daily today, it's a simply tablet easily taken every morning. Visit our website at violetdaily.com and receive 25% off your first order!
Cheers to summer living!
Sources:
*Clinical trial abstract conducted for Violet: https://pubmed.ncbi.nlm.nih.gov/15239792/
https://www.goodsamhosp.org/center-for-breast-health
https://www.thehealthy.com/breast-health/going-braless/
https://www.womanandhome.com/us/fashion/going-braless-good-for-your-boobs/
https://www.wellandgood.com/going-braless/amp/
https://feeljoy.in/blog/stressors/why-is-taking-a-break-from-routine-and-monotony-important/