Do your breasts become tender and sore right before your period? For the majority of women, that's just a part of life! But for others, breast pain can continue long after their period is over. So what's going on? Let's look at the possible causes of breast pain and what you can do about it.
What does it mean if my boobs hurt?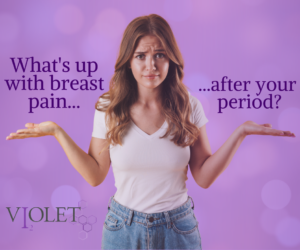 Breast pain is super common and rarely cause for concern. There are two main types of breast pain: cyclical and non-cyclical. Cyclical breast pain is directly linked to your menstrual cycle. It usually begins a week or two before your period and goes away once your period starts. 
While uncomfortable, and even acutely painful, it's not dangerous, and there are proven treatments that can help prevent it. Alternatively, non-cyclical breast pain is unrelated to your menstrual cycle and can occur anytime.
Cyclical vs. Non-cyclical breast pain
Cyclical breast pain is caused by changes in hormones during your menstrual cycle. These hormone fluctuations can cause the milk ducts in your breasts to swell, which leads to tenderness and soreness. Cyclical breast pain usually begins about 5 to 10 days before the onset of your period, and symptoms typically disappear shortly after your period ends. 
Non-cyclical breast pain, on the other hand, is not caused by hormonal changes. Instead, it's often the result of an injury or other underlying health condition. If you're experiencing consistent pain in your breasts, even after your period, you may need to dig a bit deeper to find the root cause. 
Causes of cyclical breast pain
There are a few different things that can cause cyclical breast pain. First, your body produces more of the hormone progesterone during the second half of your menstrual cycle. This increase in progesterone can lead to swelling and tenderness in the breasts. Second, estrogen levels also fluctuate throughout your menstrual cycle. These fluctuations can cause the milk ducts in your breasts to enlarge, which can lead to pain and discomfort. Finally, some women are sensitive to the changes in hormones during their menstrual cycles which can contribute to breast pain and tenderness.
Possible causes of non-cyclical breast pain
Non-cyclical breast pain, including pain experienced after your period, is a bit harder to pin down. There are several possible causes of non-cyclical breast pain. 
Here are some common causes of non-cyclical breast pain:
Poorly fitting bra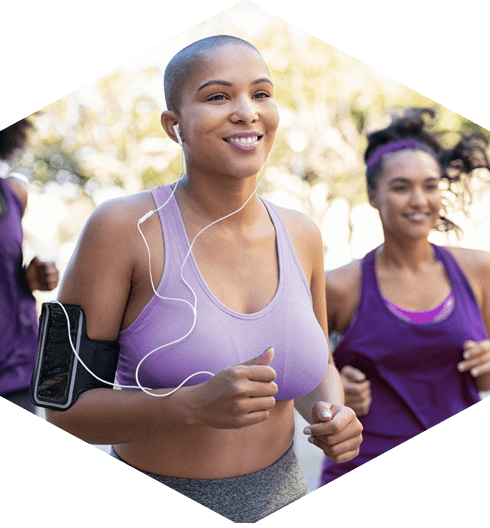 Yup, your bra could be to blame! A bra that's too small can irritate your skin, nipples, and ribs, causing discomfort. And a bra that's too loose can cause your breasts to sag and stretch the ligaments. This is especially common in women with larger, heavier breasts. 
Injury or Chest pain
Various injuries can cause breast and chest pain. For example, a rib injury may masquerade as breast pain, when the true cause lies deeper. 
A bone fracture, pulled muscle, or even heartburn can seem to be radiating from your breast. However, this is just referred pain or pain in the area of the breasts and not actual breast pain. 
Pregnancy
This is a non-cyclical type of breast pain that IS caused by hormones! Many women begin experiencing breast pain as one of their first symptoms of pregnancy. 
Breastfeeding
Not only can breastfeeding cause nipple tenderness, cracking, and pain, it can also lead to breast discomfort. Many breastfeeding mothers experience tenderness and some pain. However, left untreated, situations like clogged ducts can lead to bigger issues. 
Infection
About 20% of breastfeeding mothers find themselves dealing with a painful condition known as mastitis. However, even non-lactating women can experience mastitis due to infection. 
Another possible breast infection is thrush. This fungal infection can occur anywhere you have skin, though again is more common in breastfeeding women. 
Cysts
Non-cancerous cysts are filled with fluid and usually resolve when the body reabsorbs them. However, if you feel a lump it's always best to get it checked out. More times than not, cysts are cyclical because of hormone fluxations.
Cancer
Pain is actually NOT a common symptom of breast cancer. However, inflammatory breast cancer is a rare and very aggressive form of the disease and is associated with red, swollen breasts. 
Other causes and concerns
It's also important to note that some medications can cause breast pain and tenderness. These include certain birth control pills, antidepressants, and blood pressure medications. If you're taking any medication that's causing breast pain, talk to your doctor about switching to a different medication.
If you find a lump in your breast, notice redness or swelling, especially coupled with fever, or experience unusual discharge from your nipple, make an appointment with your doctor right away. These could be signs of a serious infection or even cancer. Never take breast pain or concerns lightly!
What can I do if I experience breast pain?
If you're experiencing breast pain, you can do a few things to find relief. First, try wearing a supportive bra. This will help reduce the amount of movement and bouncing, which can aggravate the pain. Second, try taking over-the-counter pain relievers, such as ibuprofen or aspirin. These can help reduce inflammation and swelling. Third, try using ice packs or heating pads on the affected area. Fourth, try massaging the area with your hands or using a handheld massager. Finally, consider taking supplements known to relieve breast pain and tenderness.
Breast tenderness relief supplements
A few supplements can help relieve some breast pain and tenderness such as Evening primrose oil, Vitamin E, and omega three fatty acids.
However, Violet Daily is unique as breast tenderness relief supplements go because it utilizes the scientific power of molecular iodine. Its unique structure targets breast tissue to reduce swelling and promote overall breast health.
Take charge of your breast health
If you're experiencing breast pain, don't suffer in silence! There are a few things you can do to find relief. Talk to your doctor about what's causing your pain and what treatment options are available, purchase a proper fit​ting bra and finally, consider taking supplements known to relieve breast pain and tenderness, such as Violet Daily. Taking charge of your breast health is important for your physical and mental well-being. Don't let breast pain hold you back from living your best life!