October is Breast Cancer Awareness Month, and we want to take this opportunity to talk about a topic that is close to our hearts – literally! We're talking about breast health. Specifically, self-checks, knowing the signs and symptoms of breast cancer, and treating PMS breast pain. 
Many women suffer from PMS breast pain, and it can be extremely debilitating. That's why we've got you covered with helpful facts and tips to maintain your breast health; plus, we will discuss PMS breast pain and options for pain relief. We hope this information will help you feel better during Breast Cancer Awareness Month and all year long!
Quicks Facts and Figures
While medical teams have made great strides in breast cancer research and treatment, that's not the whole story. Here are some important facts and figures every woman should know. 
Each year over a quarter million women in the U.S. are diagnosed with breast cancer.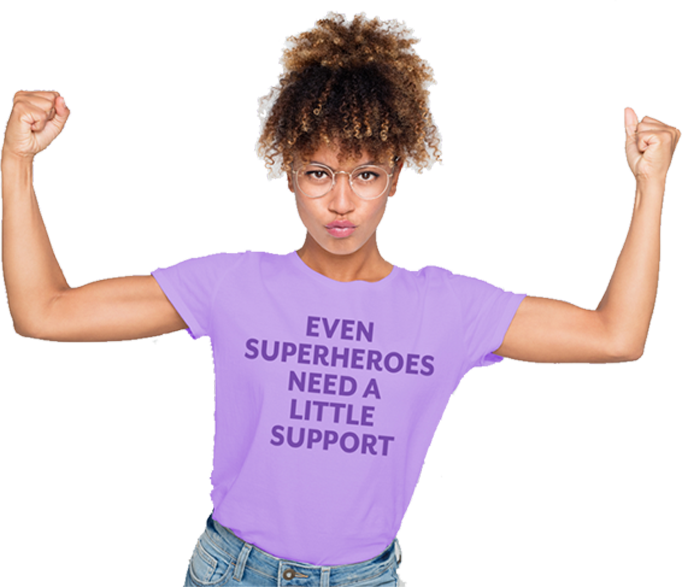 According to BreastCancer.org, about 1 in 8 U.S. women (about 13%) will develop invasive breast cancer over the course of their lifetime. And nearly 300,000 women are diagnosed with breast cancer in the U.S. each year! In fact, a woman is diagnosed with breast cancer every 2 minutes. The time it took for you to order and pick up your morning latte? As many as five women could be receiving a life-changing diagnosis. 
Perhaps most concerning, more than 40,000 American women will likely die in 2022 from breast cancer. While death rates in women over age 50 have continued to drop, they have remained steady in women under 50 since 2007. Meaning younger women are still most at risk.
There are six breast symptoms you should know.
From an early age, women are told to do self-checks and keep an eye out for symptoms of breast cancer. But many women don't have the practical information to help them do that!
Here are six symptoms that should have you making an appointment with your doctor right away:
Swelling of a breast

Skin dimpling

Breast pain

Nipple retraction

Red, dry, or flaking skin on your breast or nipple

Swollen lymph nodes or lumps in your breast or armpits
PMS breast pain affects up to 70% of women.
Breast pain can be a sign of something serious. But most women experience some amount of pain known as cyclical breast pain. This is breast pain related to the menstrual cycle. And while this pain can be severe, there are relatively simple treatments available!
Iodine deficiency is the leading cause of PMS breast pain.
Iodine can help relieve PMS breast pain by reducing inflammation and regulating hormone levels. But getting the proper amount and type of iodine isn't always so simple. For women experiencing cyclic mastalgia (breast pain), iodine-rich foods just won't cut it. Those women need something more effective, like molecular iodine PMS breast pain supplements. 
How Does Iodine Help Breast Pain?
Iodine is a vital mineral that plays an important role in the health of the breasts. Iodine deficiency is the leading cause of PMS breast pain, and iodine supplementation has been shown to be effective in relieving PMS breast pain. 
Iodine works by reducing inflammation and regulating hormone levels. It is also necessary for the production of thyroid hormones, which are essential for proper breast development and function. 
So how does iodine help breast pain? Following a series of uncontrolled clinical studies with different forms of iodine, researchers concluded that molecular iodine showed superiority over iodides when treating fibrocystic breast disease. Additionally, Violet Daily conducted a clinical trial of molecular iodine that demonstrated that up to 74% of women experienced an improvement in their breast discomfort.
PMS Breast Pain Supplements
There are many different supplements that can help relieve PMS breast pain to varying degrees of success. Some of the most effective supplements for PMS breast pain relief include:
Vitamin B-complex

Vitamin E

Calcium

Magnesium
However, for the most impact, you should try PMS breast pain supplements specifically designed with breast health in mind. That's where Violet Daily comes in! Introducing a daily supplement regimen that alleviates the monthly symptoms of fibrocystic breast condition, including breast tenderness, aches, heaviness, and swelling. 
But Violet iodine for breast pain doesn't just mask the discomfort temporarily; it actually promotes better breast health. When you take a simple breast supplement every day, the result can be true relief and reassurance that you're proactively taking care of your breasts. And that's a message we can get behind any month of the year!
The Keep A Breast Foundation
At Violet Daily, we take breast health seriously. That's why we are happy to announce we have partnered with The Keep A Breast Foundation. For the month of October, $5.00 from every box of Violet Daily that is sold will go to help The Keep A Breast Foundation in its mission to reduce breast cancer risk and its global impact through art, education, prevention, and action.
For more information about The Keep A Breast Foundation and their programs, please visit their website.
Breast Cancer Awareness and Takeaways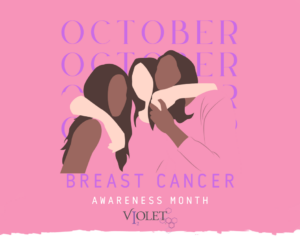 If you are suffering from PMS breast pain, we encourage you to talk to your doctor about iodine supplementation. Iodine is a safe and effective way to relieve PMS breast pain. And when it comes to Breast Cancer Awareness, The Keep A Breast Foundation is here to support you in your journey to breast health! Visit their website for more information and resources. 
For more about Violet Daily and breast health, be sure to follow us on Facebook and Instagram and sign up for our newsletter. Because knowledge is power, and we want to empower you to live your best, healthiest life.