How Does Iodine Help Breast Pain?
Millions of women around the world suffer from breast pain. It can be a very debilitating condition, making it difficult to go about your day-to-day life. And with so many women looking for ways to ease their breast pain, iodine is often cited as a potential solution.
In this blog post, we will explore how iodine helps ease breast pain and discuss some of the potential causes of the underlying condition. We will also provide information on finding reliable iodine supplements to help ease your symptoms for a happier, healthier way of life.
Kinds of breast pain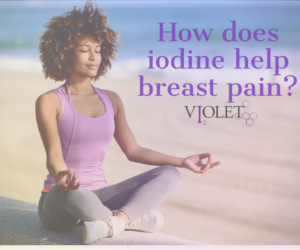 There are two main types of breast pain: cyclical and non-cyclical.
Cyclical breast pain is the most common type, affecting around two-thirds of women who experience this condition. This type of breast pain is usually linked to your menstrual cycle and may occur in the week before your period starts. Because of the timing, many women refer to this pain as "PMS Breasts," though the technical term is Fibrocystic Breast Condition (FBC).
Non-cyclical breast pain is less common but can be more severe. This type of pain is not linked to your menstrual cycle and can occur at any time.
Potential causes
There are many potential causes of breast pain. Common causes include changes in hormone levels, weight gain or loss, certain medications, and even ill-fitting bras. In some cases, the cause of breast pain may be unknown.
However, for women suffering from cyclical mastalgia (breast pain, FBC), the cause is hormone fluctuations.
How iodine helps ease breast pain
Iodine is an essential element that is required for the production of thyroid hormones. These hormones play a role in regulating many body processes, including metabolism and growth.
Iodine deficiency has been linked to multiple health conditions, including goiters (enlargement of the thyroid gland) and hypothyroidism (an underactive thyroid).
What the research shows
Research has shown that iodine deficiency may also be a contributing factor to breast pain. In fact, following a series of uncontrolled clinical studies with different forms of iodine, Drs. Ghent, Eskin, Low, and Hill concluded that molecular iodine showed superiority over iodides when treating fibrocystic breast disease.
Thus, iodine supplements that utilize molecular iodine can help to correct iodine deficiency and may provide relief from symptoms.
Violet Daily conducted a clinical trial of molecular iodine that included 1476 women. We demonstrated that up to 74% of women experienced an improvement in their breast discomfort.
Finding reliable iodine supplements

If you are considering taking iodine supplements to ease your breast pain, it is important to choose a reliable product. Products that contain iodine from natural sources such as kelp or seaweed may sound good but are much less effective than those with molecular iodine.
Avoid products that contain iodine from synthetic sources, such as potassium iodide or sodium iodide. These products may not be as effective in easing symptoms and can potentially cause side effects.
Violet Daily pills are made using a novel technology that combines a formulation of two forms of iodine: iodide and iodate. This is a unique, non-hormonal formulation designed to interact with the acidic pH environment of the stomach to form molecular iodine, which is then delivered to breast tissue.
The result? A reduction in menstrual-related breast discomfort!
Get the help you need to solve your breast pain
Do you experience breast pain? If so, you're not alone. Many women suffer from this issue at some point in their lives. And until now, there has never been a supplement specifically demonstrated to target breast tissue.
Violet Daily is the first iodine supplement to address the underlying cause of menstrual-related breast symptoms associated with fibrocystic breast condition. So you can stop being inhibited by pain and discomfort and get back to living your life!