If you're one of the many women who suffer from ​monthly breast pain, you're probably looking for a way to find relief. You may have tried home remedies like ice packs or massages, but if they haven't worked, it's time to consider breast health supplements, Violet Daily.
The idea of taking medication for your breasts can feel daunting. But breast health supplements are actually natural supplements formulated to help reduce inflammation and relieve pain. At Violet Daily, we specialize in providing a high-quality breast health supplement that can help you feel your breast-health best!
What is Mastalgia?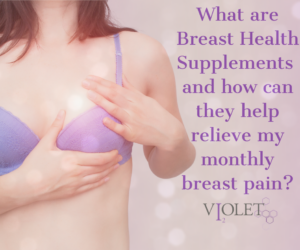 Mastalgia is the medical term for monthly breast pain. It can affect women of any age but is most common in women who are between the ages of 20 and 50. In fact, about 50% of women between the ages of 15 and 49 experience breast discomfort!
Monthly breast pain can be caused by several factors, including hormonal changes, weight gain, and even certain medications. Unfortunately, many women find that the medical response to their pain is dismissed, with the cause of the pain going unaddressed.
These women find that medical providers recommend home remedies to treat the symptoms of their mastalgia without treating the root of the problem, which could provide consistent relief. Instead, they're simply directed to use pain medication as a band-aid method. ​ At Violet Daily we do not settle for "good enough" advice when it comes to breast health.
What is "PMS Breast Condition"?
Monthly breast pain, broadly termed "mastalgia," is usually categorized as cyclical or noncyclical. Cyclical pain means the pain is related to your menstrual cycle. This menstrual cycle-related monthly breast pain is often anecdotally referred to as "PMS breast."
The tenderness, aches, and swelling associated with PMS breast are actually signs of a very real condition called fibrocystic breasts. Women with fibrocystic breasts may notice breast lumps or "ropey" nodules across the breast, especially in the outer and upper portions. They will often experience pain most closely associated with mid-cycle ovulation, and start to see improvement once their periods begin.
Women with cyclical pain may find that the pain gets worse as they get older due to increased sensitivity to hormones as they age. However, women who experience this menstrual-related pain typically won't continue to experience it after the onset of menopause.
Who is at risk for monthly breast pain?
There are a few factors that can increase your risk of developing breast pain. If you're overweight or obese, you're more likely to experience mastalgia. Women who have large breasts are also at an increased risk. Additionally, if you've recently started taking birth control pills or hormone replacement therapy, you may be more likely to develop monthly breast pain.
Meanwhile, fibrocystic breasts are common in any woman during her fertile years. There's some evidence that fibrocystic breast issues can be hereditary. Meanwhile, other research has identified possible connections to diet. Unfortunately, the cause of fibrocystic breast disease is still relatively obscure. But for women suffering from this condition, the real issue is how to treat and prevent the pain.
When home remedies aren't enough
Cyclical monthly breast pain is typically treated with home remedies. Doctors may suggest over-the-counter pain medications like acetaminophen, ibuprofen, naproxen, or aspirin.
Additionally, health providers may recommend other symptom management tools such as warm compresses and ice packs. If pain is severe, some doctors will proscribe Danazol or Tamoxifen, heavy-duty drugs used to treat breast cancer and other diseases. Many women want to avoid such extreme measures, due to side effects and cost. But that doesn't have to be the end of the road!
If you've tried home remedies like ice packs or over-the-counter pain medication, but haven't found relief, it may be time to consider Violet Daily, a monthly breast health supplement.
What are breast health supplements?
Breast supplements are specially formulated, natural supplements that can help reduce inflammation and relieve pain. Violet Daily breast supplements are designed to remove cyclical monthly breast pain from the equation by treating the cause instead of just trying to cover up symptoms.
Our patented OTC formula combines two types of iodine, ​iodate and iodide to help restore your body's natural mineral balance. Violet products are made with natural ingredients and are designed to provide relief from a variety of symptoms associated with mastalgia.
How supplements can relieve breast pain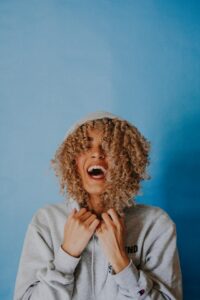 If you're suffering from monthly breast pain, supplements can be a helpful way to find relief. The two key ingredients in Violet supplements are iodine and selenium. The unique molecular iodine structure targets breast tissue to reduce swelling. Meanwhile, selenium acts as an antioxidant and is a micronutrient that may prevent breast cancer and other diseases.
Thus, Violet's first-of-its-kind ​clinically proven formula can alleviate breast discomfort and has also been shown to promote overall breast health. In fact, clinical trials found that 74% of women experienced significant improvement in their breast discomfort after taking Violet for 60 days.
The Violet Daily difference
At Violet Daily, we pride ourselves on the quality of our product that is designed to provide relief from a variety of symptoms associated with mastalgia. Our formula relieves symptoms by targeting the cause: a spike in estrogen and prolactin and an iodine deficiency.
​We are confident that Violet Daily is your solution to monthly breast pain and overall breast health. That's why our product is backed by a money-back satisfaction guarantee. Try the Violet Daily difference today!