Ladies, are you tired of uncomfortable, ill-fitting bras and lingerie? What about that bland "universal nude" shade that seems to be flattering on pretty much no one? Then it's time to join the Naked Rebellion! 
This is a movement dedicated to helping women feel more comfortable in their own skin – literally. We believe that every woman should feel beautiful and confident, regardless of her skin tone, size, or shape. And we care deeply about breast health. 
That's why we're committed to promoting the nude standard, which celebrates both aesthetics and comfort. Join us for a look at the benefits of going (nearly) nude and how you can find the perfect bra fit. 
Let's get this rebellion going today and help promote health, wellness, and positive body image for all women!
Introducing the Naked Rebellion

Naked Rebellion is a line of bras, underwear, accessories, and bodysuits ranging in size from small to 3X. Naked Rebellion's clothing items come in 8 different "shades of naked" – because there's no such thing as one-nude-fits-all!
How to Find the Perfect Bra Fit
While you may be letting out a sigh of relief to have FINALLY found the right nude tone for your skin, there's still another important consideration: fit! A good-fitting bra is vital to good health and comfort. Breast pain, bad posture, and skin issues can be alleviated with a well-fitting bra.
Fortunately, finding your perfect fit is easier than you may think. Just remember a few key tips:
There should be a smooth transition between the bra and the cleavage. 

The cup shouldn't cover the whole breast, but the whole breast should fit into the cup.

The cup seam should not press against the breast tissue at the side, bottom or middle. 
Naked Rebellion sizes keep it simple, and are based on your underbust measurement. 
Why the Nude Standard is Best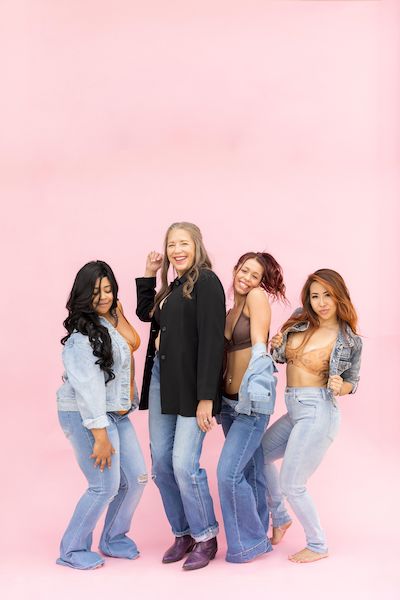 The average woman owns nine bras. But what if we told you that you only needed ONE? The nude standard is all about simplicity and functionality. We believe that every woman should own at least one well-fitting, comfortable nude bra that can be worn under any outfit. 
No more worrying about whether your straps will show or whether your bra matches your skin tone. The nude standard is perfect for busy women who want a low-maintenance wardrobe.
But the nude standard isn't just about aesthetics – it's also about comfort. Your bra should also make you feel nearly nude! Not only is the nude standard more comfortable, but it's also better for your health. 
Wearing a constrictive bra can lead to breast pain, posture problems, and skin abrasions and infections. A well-fitting nude bra will support your breasts without putting unnecessary pressure on them.
Reducing Breast Pain and Breast Cancer
Bras can be functional, sexy, and… lifesaving? Naked Rebellion bras do not have hooks or clasps, and the band around the chest area sits lightly on the lymphatic system. The straps and material are breathable and light. It has a way of making you feel naked without actually being naked (hello, support!). 
Violet Daily is all about breast health. That's why we're collaborating with Naked Rebellion – to take care of the breasts from the inside out.
A properly fitting nude bra will support your breasts without putting unnecessary pressure on breast tissue, nipples, or your lymphatic system. This can help to reduce breast pain and the risk of breast cancer.
Join the Rebellion Today
Are you ready to join the rebellion? Start by finding your perfect fit with the Naked Rebellion size guide. Then, check out their selection of beautiful, comfortable bras, underwear, branded accessories, and bodysuits. We know you'll love their products  and so will your breasts! 
And if you're finding that you still experience hormonal breast pain (a bra can't solve everything), try Violet Daily iodine breast supplements. Remember, every purchase this month helps us promote breast health and wellness for all women. Thank you for supporting the Violet Daily and the Naked Rebellion!